Introduction
I have loved Great Danes from the moment I saw a Walt Disney film called "The Ugly Dachshund" when I was eight
I didn't actually own a Dane until I was married 14 years later and Andrew and I bought our first Dane from Jean Turner at Tamogen Great Danes in Melbourne. He was a wonderful dog and we had 10 very happy years with him including bringing home our first daughter.
Boss passed over the Rainbow Bridge 3 weeks after bringing home our second daughter from hospital. Our home seemed so empty without our boy. So I contacted Vic and Zena Place who I had met previously through the Great Dane Club of SA. They had 2 twelve week old puppies, but Vic was running them both on to decide which one he would keep. I must have rang them every day for a week and driven them absolutely crazy. Eventually they relented and decided to keep their fawn boy and I could have the brindle. Mitch (Danelyne Utah) was to be my first show dog and he was also the catalyst for my long and wonderful relationship with Vic and Zena and "Danelyne".
Vic & Zena have been wonderful friends and mentors and I thank them from the bottom of my heart.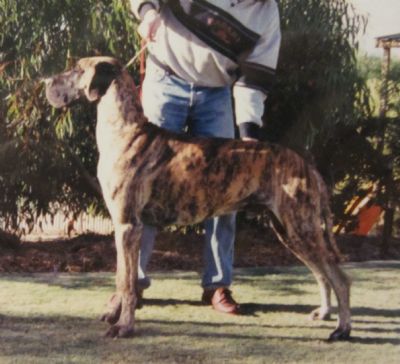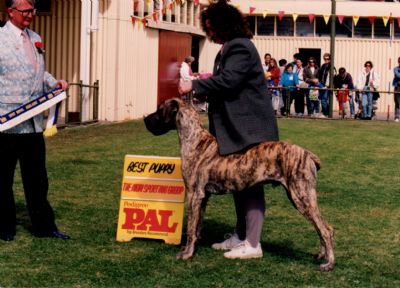 R/up Challenge Dog – Puppy of Breed & Puppy of Group -
Adelaide Royal 1992. My first show dog…I was hooked!
Mitch was a BIS and Group Winner.
Tragically taken before reaching his true potential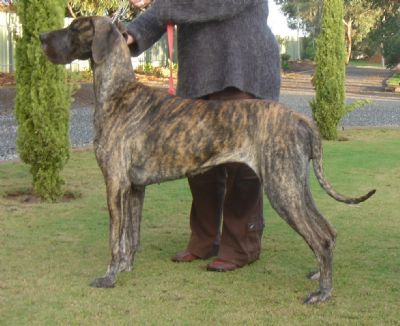 Chelshar Abracadabra
'Abby'
Aust Grand Ch Chelshar Bronson x Aust Ch Congistador No Nonsense
Came to us from Brian and Sharyn Wright - Chelshar Kennels when she was 6 months old.She did not like the show ring but she became a wonderful mum and was our foundation bitch.
Contact Details
Tracy Wallage
Lewiston, SA, Australia
Phone : 0409 677 154
Email :
[email protected]